UNIQUE IN THE SECTOR, a multifunction spa in a few square meters, a high variation profitability.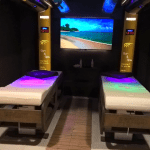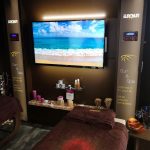 Immersed in her picturesque scenery it is the perfect place for relaxation of body and mind.
A unique and original atmosphere that projects the mind in a striking space is a perfect solution for those who want to escape plunging into an unprecedented emotional experience that enriches the wellness dimension with the introduction of new multimedia technologies and effect of great charm, which customize the depending on your needs room.
With a home automation system, scenarios, color and music vary at will transform the environments that in a moment carrying on tropical beaches, mountain views or scenes on the world's best locations.
It 'a very innovative suite for an exclusive service, even in pairs, which allows him to live his own body as seduction, pleasure if, desire of life, enhance their beauty, in a secure and confidential environment
UNIQUE IN THE SECTOR, a multifunction spa in a few square meters, a high variation profitability.

SERVICE
Couple or single for all treatments.

SPA
Massages on RIALTO* height-adjustable beds in combination with chromotherapy lighting with audio and video relaxing ambience and diffusion of aromas.

RELAX
E xclusive rela xation in combination with chromotherapy lighting, audio and video with relaxing ambience and diffusion of aromas.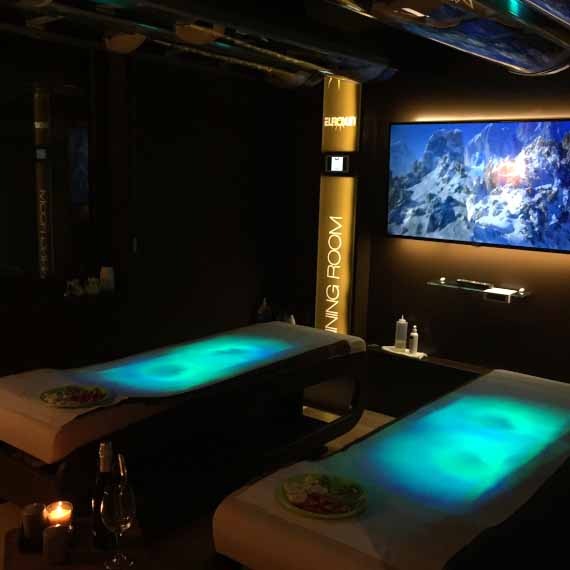 TAN
ANTIPANIC tan, natural, direct pigmentation, totally relaxed with no risk of erythema on the skin. Combined with ionized air to a special euphoria, iodine, a light breeze on the body. Set in Audio and video with background music and video choice. Voice guide and diffusion of aromas.

HALOTHERAPY
Massages on RIALTO beds with adjustable height of the mat (water, Himalayan salt or sand) in combination with wall SALT LED backlit panel with chromotherapy lighting variants with audio and video relaxing ambience and diffusion of aromas.
PHOTOBIOSTIMULATION
Tan that combines ultraviolet photobiostimulation, the light to activate the synthesis of collagen and get a colored skin and an anti-aging effect. A natural process of stimulation of the cells present on the skin and on the body to trigger the biological response mechanisms which potentiates the cellular activity by increasing the production of collagen.
Very advanced technologically, tablet for easy and intuitive media management, even remotely in wi-fi.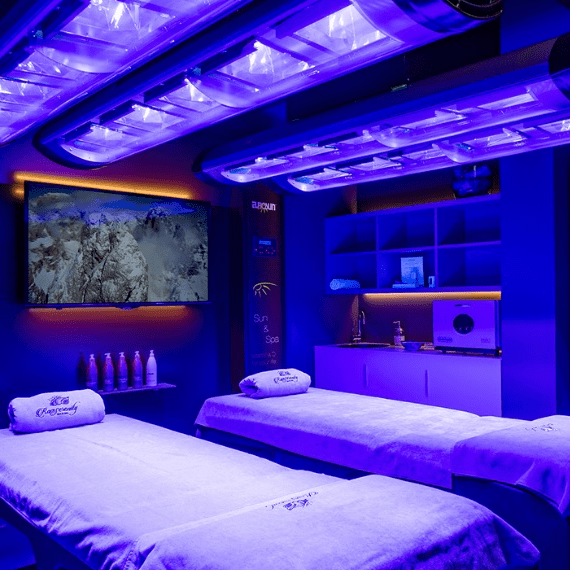 RIALTO BEDS
The development of the vision of luxury reaching excellence, this is RIALTO, the bed inspired by the most famous bridge in Venice, revisited in a modern key, with a unique and original shape.
Eurosun presents Rialto to the luxury sector in its purest form, focusing on refinement, beauty, glamor, desire and unique style. The RIALTO bed in the luxury version is made of solid wood with a special material mattress, electric height adjustment with push-button panel and radio control, lift-up cushion, face hole and roll holder for paper / technology compartment, rosewood finish.
ACCESSORIES
WALL OF SALT HIMALAYANO – CHROME RELAX Panel covered with backlit Himalayan salt tiles with low consumption LED technology. All managed by a touch screen remote control to create countless games of color. A unique system that allows you to have a dynamic, modular wall of salt, which you can change according to your needs in the future. All without having to deal with demanding and expensive structural changes. Creates a chrome relax effect with relaxing and stimulating lights. Made of wood in wenge color finish.
Unique service in the field;
Profitability multiplied;
Investment safe recovery;
Optimize the operating costs;
Use of even single location;
Rapid realization without expensive structural changes.